About Andrea Cox ~ The Detox Queen
Andrea is an intuitive healer and detox specialist who is known as a medicine woman. Although Andrea began as a model turned health coach, she has since left those titles behind to study more in the spiritual realm.  Andrea has written three books on the raw vegan healthy cellular detoxifying lifestyle! Known as "The Detox Queen" Andrea has taken the media by storm & has an impressive social media following with her first YouTube channel Andrea Cox TV hitting over 4 million views & her personal Facebook page alone having 30,000 followers!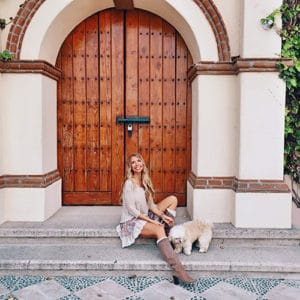 Andrea has appeared on numerous news stations TV shows and magazine publications in her hometown of Dayton Ohio and now where she lives in San Diego! She has also had national media coverage! Her retreats have become a destination health vacation for several Hollywood celebrities! Including a Tony award winning playwright, A childhood star who appeared on The Brady Bunch and NBA players.
A beautiful 5ft 10in blonde bombshell however the second she opens her mouth all presumptions are laid to rest! As her clients and others in her field say "Andrea really knows her stuff and walks her talk"!
Andrea is a natural health guru who follows natural hygiene practices and detox principals to get her clients looking and feeling their very best! Although Andrea now resides in San Diego California, she was born and raised in the small town of Dayton Ohio! The youngest of three girls, Andrea's mother and father were high school sweethearts who married after school ended. Andre's father became an Ohio state trooper and coached baseball where he was said to be a pro! Eventually he started his own trucking company. Unfortunately Andrea's father lost his life in an auto accident at age 36. Andrea was ten years old at the time. Andrea's mother worked for a boutique and moon lighted secretary positions to make ends meet. She took pride in raising three beautiful strong girls.
Becoming independent at the age of 17, to pursue her dreams, Andrea left home. Her career began as a survival mechanism. Andrea began entering into bikini contests at the age of 20, and by the age of 22 she was spotted at the Atlanta, GA airport by a former National Geographic photographer who was shooting for Playboy and other glamour magazines. After shooting with that photographer one time, Andrea then began her career as a pin up and glamour model.
Andrea used a pseudo-name as she began modeling to ward off any potential "Un wanted" followers. Andrea's first glamour photo shoot landed her on the cover of not one, but 5 magazines, including a notoriously popular "Australian" Black and White edition magazine along with "Playboy's Book of Lingerie" and "Playboy's Voluptuous Vixens". Andrea has been in various magazine photo spreads, among a variety of powerful and well known glamour magazines. One of her favorite modeling jobs was shooting the billboards for "Red Bull Energy Drink"! She also shot their Pin-Up Posters. This goes completely against the grain of health that Andrea believes in today! Stimulants and diet drinks are a thing of the past for Andrea and her clients!
Andrea also was featured on "Cover Girls' calendar and became a spokes model for the Ashley Talent Agency in Cincinnati Ohio Moving over into a more expansive media exposure range, she also appeared in a segment of Passport to new homes and was the star of an Indiana State Lottery commercial.
Andrea grew deeply passionate about the health and fitness industry. With her modeling career demanding an EXTREMLY conscientious health and body fitness awareness. Andrea became captivated by the fitness and health world, and thus began her career as a fitness model, at the age of 24, after spotting a fitness magazine in the check-out isle of her local grocery store. She looked up at her boyfriend at the time and said the following words "I'm going to be on the cover of this magazine!" Just two months later, she was! With a strong passion for working out and the fitness lifestyle Andrea quickly realized that she wanted to begin creating a dynamic brand behind herself. Dropping her fake name, Andrea moved forward into the fitness model industry, where she became the "eye candy" to get the men to purchase the magazines. Soon after, magazine covers followed! Andrea has the largest spread for a female non-competitor in Pump Fitness "Muscular Development Magazine" to date. She has shot for spreads and covers in over 20 fitness magazines to date. During this same time, Andrea's health began to fail, due to her high protein diet, and on going battle with bulimia for almost two years, which had now, began to take its toll. The sudden change in her health, forced Andrea to look at her nutritional lifestyle and health once again, wherein she discovered the life changing powers of juicing, fasting, detoxification and raw living foods! Andrea began to soak up information about this lifestyle and immediately made the change. Her new motto and one of her most famous quotes being "Live food, live body, Dead food dead body"!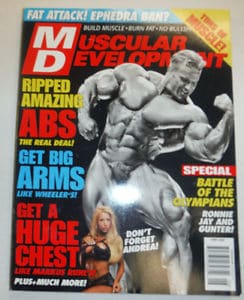 During that same year, Andrea decided it was time to follow her newfound interest in raw living foods, Andrea flew herself out to New York, to meet the author of a popular raw foods book, only to learn that the author of the book was not responsible for the advice that had been given, but rather, that it was the author's colon~hydro therapist who had the "real" knowledge! Andrea soaked up his knowledge like a sponge! She has been known to say "I can always tell when someone truly knows their craft"!
This was the event that changed Andrea's life forever! Little did she know it at the time, it was to become the driving force that would motivate Andrea onto a more influential path, after realizing that she would have to directly nurture herself with living foods, juices and intermediate fasting in order to heal. This was a change Andrea had to make for herself and could not rely on another person to do that for her. Her ten year journey of healing began! "This journey I walk is one that I have been lead to by source and that source for me is God".
Inspired by the mere thought that she could change her health on a cellular level and Andrea underwent an intense self-induced journey into healing her body, healthily, and naturally.
Andrea began a 40 day juice fast to detoxify her body, followed by a seven day water fast, she quickly realized the health benefits of raw foods and juicing, and began to immerse herself into the Raw Vegan lifestyle and world. Her raw journey had just began!
Following her new found path, she attended the California Academy of Healing Arts, where she studied holistic healing and was certified in reflexology. Andrea followed this by working closely under a Shaman, for a year to learn more about detoxification both through body and spirit.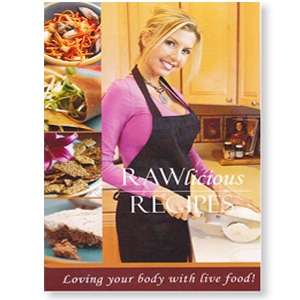 Andrea soon realized that both men and women suffered from eating disorders that often had a mental component to them. Andrea began concentrating her efforts on spreading her experience and knowledge, and became a powerful force not only in the raw vegan community but also in the eating disorder community! Nothing however trumped her ability to completely dominate the detox community! As her clients often say, "Detox just comes naturally to Andrea"!
Creating her first website, at the age of 28, www.TheHealthyHaven.net is an active health and lifestyle website, designed to help teach, and inform the public about healthy ways to maintain and improve their life and lifestyle by using food as medicine! Andrea is a firm believer in the mind body connection and has become deeply spiritual since finding the Lord a few years ago.
Andrea has created and authored two books. The first "Raw-lic-ous Recipes", is a semi auto-biography and self-help health advice book which details her trials and tribulations of living with bulimia, describing how she healed it by 'juicing', eating only living foods and cleansing her body through fasting.
Her second book, titled "Juicing for Beauty", is a collection of her favorite juice, smoothie and soup recipes, designed to help any health conscious individual eat more healthily and easily, with less time wasted in the kitchen.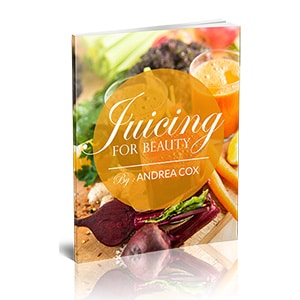 Andrea has most recently created a line of 'humic and fulvic acid' detoxification products, probiotics and hair & skincare remedies called "Andrea's Detox Formula" "Raw and Sexy Hair Skin and Nails Formula", Smiling Gut Probiotic" and "Andrea's Colon Smooth" All four of Andrea's humic and fulvic clay based products have been successfully sold and shipped all over the world.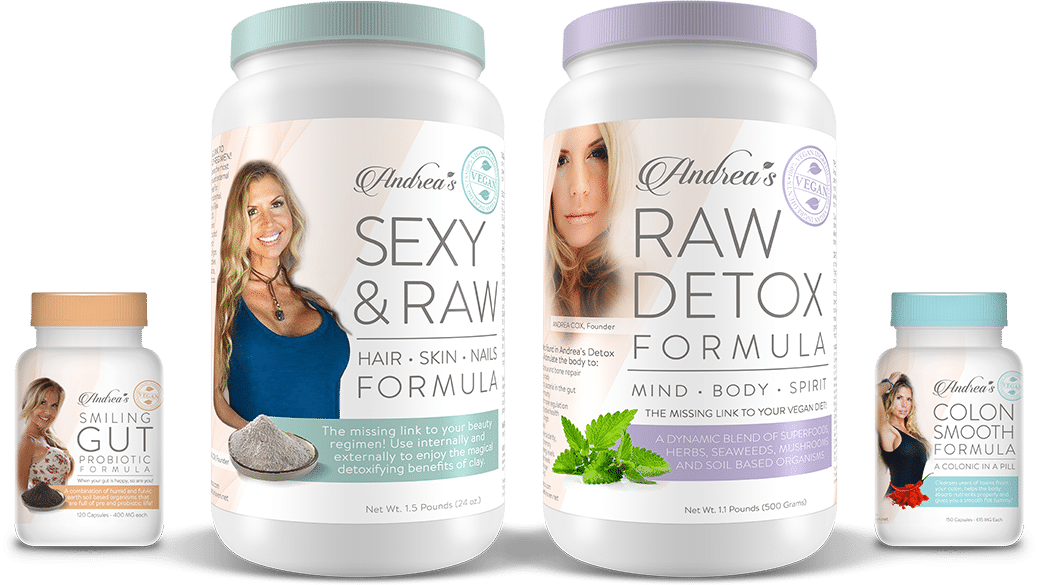 Over the years, Andrea has been commissioned, to write for hundreds of publications such as "The Dayton Daily News", "The Chiropractic Journal", "Fashion 5.0", and "Natural Living Magazine", due to her experience and knowledge in the health detox and  beauty industry. Most recently Andrea has been featured in The Huffington Post, Your Tango and as a regular contributor for The Good Men Project!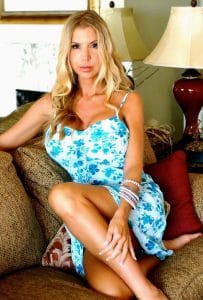 Andrea has accomplished a variety of high profile spreads, and shoots, and has graced a multitude of magazine covers, for both glamour and beauty, in the health and fitness industries. One of her most famed shoots being last year with the famous Maurice Rinaldi who has shot for magazines such as Vogue!
With all of the success she has experienced in her shift into the raw vegan lifestyle, she has created a solid clientele, audience and fan base following of health enthusiasts and spiritual students.
Andrea has spent nearly a decade as a beauty, health and fitness expert who turned a tragic eating disorder into her greatest strength. Helping others heal their bodies and lives through a plant-based detox lifestyle.  Andrea has firmly yet gracefully planted herself within the health, fitness, and beauty communities, as the "go-to girl" for cleansing and detoxification advice and guidance.
Andrea currently runs a YouTube video channel where she produces, directs and edits weekly YouTube videos! This channel has drummed up over 3 Million views. Andrea also creates a steady flow of blog posts on her website www.AndreaCox.com where she reflects on the ups and downs of the daily life of a woman, who in her words, "Has undergone not just a health journey, but a spiritual one as well."
Using her knowledge and experience, Andrea began hosting detox, juice fasting, yoga, spiritual retreats, in San Diego and Mexico. These retreats have garnered the attention and praise of Hollywood celebrities and the average Joe who want to achieve their highest potential!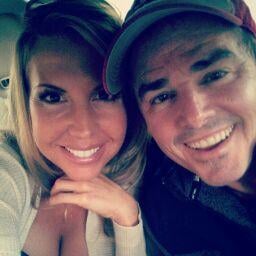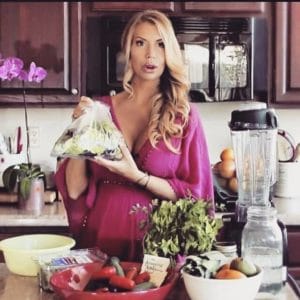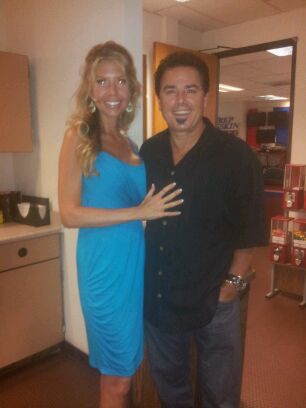 Andrea currently offers an online cleanse called The Digital Detox that for less than $100 takes you through the same protocol as her five day retreat that costs thousands.

Andrea's most recent program is The 30 Day The Path to Enlightenment which concentrates on detoxifying the mind, body, and spirit for extended health benefits, using the approach of doing for others to get outside of yourself! Andrea was proud to be able to create this affordable program for people. At less than a buck per day, it is life changing!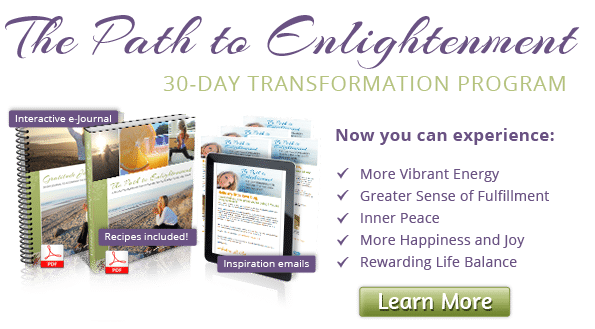 Her powerful reach in the juicing and healthy lifestyles community, has cultivated Andrea an impressive media appearance resume, with appearances on numerous television appearances, including "Dayton's Channel 2", San Diego's "KUSI", "San Diego 6", and "Fox 45" news stations. Andrea has been interviewed on national radio shows such as "The Patrick Timpone Show" on One Radio Network, the "Rawkin Radio" show, and the "Extreme Health Radio" and The Morning Ignition radio program and The Ronnie Landis show!
Andrea has also been featured on "The Randy Alvarez Show", the "Raw Life Health Show", "Global Health Summit". and most recently on the John Salley show! Andrea loves sharing her expertise, and knowledge on natural health, beauty, and the benefits of a raw food lifestyle.
As a powerful health advocate, Andrea continues to speak out for bulimia and anorexia, by using her media appearances to help educate others as to the dangers and realities of the disorder. Andrea has spoken publicly about her personal battles with bulimia, on the "The Anthony Anderson Show", "The Cool Vegetarian", "The Global Health Summit", "The Integrated Health Summit" and most recently The John Salley Show!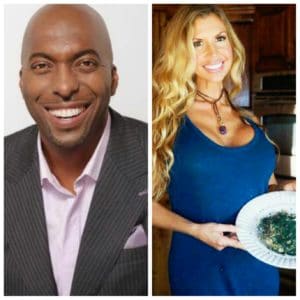 Andrea's expansive knowledge on natural foods and cleansing have awarded her the opportunity to also work directly with celebrities, such as a Tony Award winning play write and even a former Brady, Christopher Knight.
Andrea is a huge supporter of the "buy local" movement in both San Diego and Ohio. Andrea's farmers know her by name and this makes her smile from ear to ear.
Andrea continues to model on a regular basis and advocates to help her audiences achieve a healthier body image, and perception of beauty. Her most recent modeling and professional media work and portfolio was featured in a coffee table book called "The women of Health" ~ Body mind and soul!
Andrea presently uses her bombshell image, glowing skin and fit healthy body, to teach audiences that they can attain and maintain a healthy lives, regardless of their age, health concerns, or other challenges.
Andrea's coaching and guidance programs, allow her clients to naturally bring out their beauty, fitness, and strength, by using holistic empowerment and natural nourishment techniques.
Andrea's teachings of the juice cleansing plant based lifestyle and spiritual centered lifestyle have formed a cult like following on her blogs, websites, YouTube videos, and Facebook pages, and have expanded her social media growth to over 55,000 followers between her personal and fan pages on Facebook alone! Andrea has proven that she can naturally captivate and engage audiences by becoming a beautifully empowered mentor, and coach not just in the health movement but as a marketing genus as well!
Andrea's solid marketing and branding growth has most recently landed her to be featured on the "Jason Spurlock's Nation Wide" radio show, where her marketing talents and branding power were showcased. Andrea has solidly established herself as natural health and beauty powerhouse! She has proven that she is more than just a hot body with a beautiful face! With Andrea's ever growing popularity becoming known nationally she has shown us she has the brains to successfully represent and build powerful brands, all while complimenting her craft with a beautiful bombshell fit physique.
Beautiful both on the inside and out, Andrea continues to empower the world, both the strong and the weak with her inspiring message of self love, live foods and her ever famous signature green juice! In her own words…
Enjoy the journey, you are everything you need to be, here and now!"
Andrea Cox