Hi Beautiful:)
This morning I was creating space on my cell by deleting videos. I came across one of me two years ago right before I met my partner. I was carrying about 50 lbs on me that wouldn't budge. I was exercising & we all know I eat right. My body just wouldn't let go of the unnecessary toxic weight that was suppressing who I had always been! 
Happy 
Outgoing 
Full of energy! 
I was hiding away from the world! I wasn't allowing others to be around me. I carried so much shame in those fifty pounds. 
One day a friend of mine convinced me to meet his friend. I said "no way". I was intimidated! I took one look at how fit he was in his photos and said "that's not me anymore"! He would never be attracted to me. We met and he was very attracted to me. As I was to him. Within six weeks the fifty pounds I had tried to get off of me for two years were all but a distant memory. I had my vibrancy back! Not because the weight was gone. Because my confidence was back and I was being SHOWERED with a constant rainbow of love! 
When I look back now I realize that I hadn't been truly loved and cared for in almost a decade. It was like a peeling of an onion! My true beauty was revealed with each kiss, softly spoken word or gentle touch. 
Just as we blossom when we are being loved fully and completely, we too can quickly unravel as the gentleness of love leaves our garden. This is why it's so very important to know exactly when to have a "necessary ending". So beautiful beginnings can occur! 
Water your grass! Water it until it's as green as an emerald! Water it so much that the wild flowers grow along the sides of your home like a trellis! Water it so everyone who enters your garden leaves better for having entered!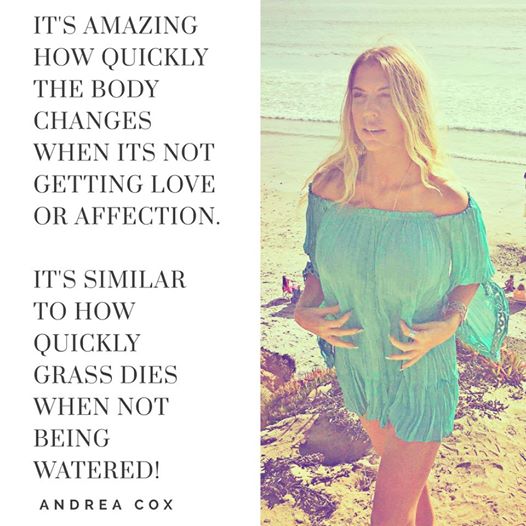 Tomorrow I'll be sharing with you the actual protocol I used to lose the weight! I'll be sharing this during my Facebook Live video! I cannot wait to see you there,tomorrow at 
3pm Pacific at this link! –> click here
If you are reading this and know someone that can potentially benefit from this, please SHARE this! They will be thankful and so will I!:)
---
Andrea Leigh Cox is a fitness model turned health coach who has written two books on the raw vegan healthy detoxing lifestyle! Known as "The Detox Queen" She has taken the media by storm & has an impressive social media following with her YouTube channel surpassing 2 million views & her personal Facebook page alone having 20,000 people!
Andrea has appeared on numerous news stations TV shows and magazine publications in her hometown of Dayton Ohio and now where she lives in San Diego! She has also had national media coverage! Her retreats have become a destination health vacation for several Hollywood celebrities!
Andrea's online detox programs may be found at www.thehealthyhaven.net
Andrea's retreats can be found at www.alkalizewithandrea.com
CONNECT WITH ME!
Facebook ~ click here
Twitter ~ click here
Instagram ~ click here
YouTube ~ click here
Snapchat ~ http://www.snapchat.com/add/andrealeighcox